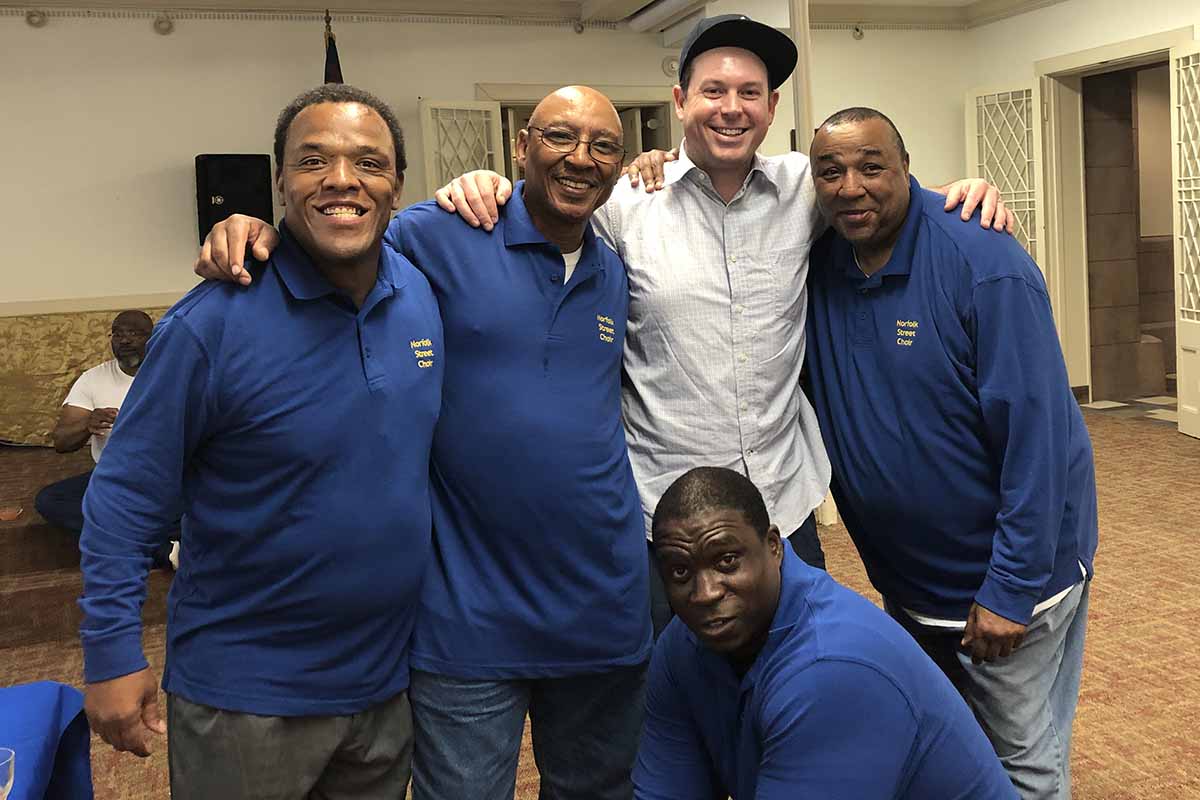 Q & A with Director Kendrick Hopkins Jr.


Oct 12, 2019



Belinda Elliott



3 Comments



film



Film
As production on City Voices wrapped up, we sat down with the film's director Kendrick Hopkins Jr. to ask him about the documentary.
How did the film come about?
Being that the Goode grant/documentary is a yearly project, I always try to keep my eyes open for interesting art related stories that have a connection to Hampton Roads. Funny thing about the Norfolk Street Choir is that I first learned about it after Bryson Mortensen, who was a key figure in our film, #YoungSingersProject (another Goode Grant Doc), posted a piece that the Virginian-Pilot had created. I knew it was something I wanted to pursue, so I contacted NSC founder, Bob Shoup, and recommended he submit an application for our RFP. After lots of committees and voting, it was selected.
How long did you follow the choir members?
We officially shot one season of the Street Choir, from September 2017 – May 2018 (28 rehearsals, 4 performances, 200+ hours of footage), however we have still been shooting with our principle characters off and on through September of this year in preparation for the release of the film, as well as to be able to update their tremendous stories.
What surprised you about this project?
I knew we were going to hear tough stories and see awful living conditions during this project, but what I didn't foresee was caring so much about the Street Choir members. To know that you represent possibly the only chance that these people will ever have to tell their rich stories, and show their value as human beings to the masses, there is a lot of responsibility in that. It was a task in which I did not bristle, and the results are not only the film, but also in the experiences and relationships that I will hold dear for the rest of my life.
What do you hope the project accomplishes? What messages do you hope people will take away?
The main thing I'd love our audience to take away from this film is that those people who you perhaps dismiss on the street because they appear unkempt or a little scary, often times have a lot to offer to the world around them; they just don't have the luxuries that many of us take for granted. In luxuries, I don't only mean obvious necessities, such as a warm meal or shelter, but I'm referring to family and loved ones who can offer support when one needs it most.
This film gives a voice to the voiceless while showing how a powerful art form, like singing in a choir, can provide a sense of community and optimism to a very vulnerable population. Nobody wants to hit rock bottom, but when they do, it's important to have opportunities to get back up, and the Norfolk Street Choir does just that.
What were some of your favorite moments?
I loved seeing when members from the choir would get approved for housing, or build up their confidence enough to finally sing by themselves in front of the group, but one moment I will never forget is day one of the season we filmed. The choir was coming off a lot of excitement surrounding their first major performance the previous spring, but they had taken a hiatus over the summer, so this was the first time they had been back together, and to say there was a buzz of excitement in the air doesn't do it justice. It was an energy that gave me goosebumps, and I knew right then that we were about to embark on something special.
What outcomes have you seen from the street choir program in the lives of its members?
The main thing that members of the Street Choir take away is just a sense of belonging and pride, and there is a growing level of confidence that goes along with that. It gives them optimism that they can achieve things, and that they are deserving of a place in society. From that, we saw members get into housing, gain full-time employment, fall in love, publish poetry books, enroll in college and more. Not every story worked out as we had hoped, but the homeless community is a resilient group of people who adapt and make the best of their surroundings, no matter how harsh they might be.
A topic like this can be really heavy. If people are worried the film may be "too sad" what would you say to them?
In comparison to most major metropolitan areas, Hampton Roads does an excellent job in providing resources for the homeless that helps keep large pockets of that population from congregating. However, that is not to say that it doesn't exist. I've encountered countless stories of people living on the streets who are too embarrassed to tell their loved ones about the situation they are in, or people who have multiple jobs that just don't pay enough so their only option is to brave the extremes of the weather in hopes of one day finding a permanent home. The fact of the matter is that a large portion of society are a couple missed paychecks away from having the same fate as members of the Norfolk Street Choir, so the more we ignore this problem, the further we distance ourselves from the realities of our neighbors.
In the end, this is a film about hope. As consumers of media, we watch stories all the time that are filled with sadness, hardships and triumph. To me though, the most important part of this project from a local standpoint is that after seeing this film, anyone can go volunteer at a shelter or breakfast, or even with the Norfolk Street Choir, and begin to make a difference, albeit seemingly small to some, but huge to the people impacted.
Learn more about the film at whro.org/cityvoices.